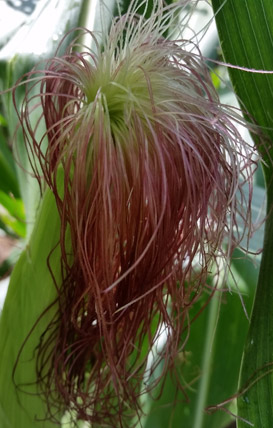 Remember when you learned simple math equations in 2nd grade? Your life isn't as simple as it was then; neither are the equations. Your product advancement decisions come from calculating the pluses and minuses of each part of the equation. KMR rounds up your confidence by providing the information you need when considering each variable in your product advancement decisions. There are other testing options but look to KMR for the Right Equation for answers to multi-million dollar decisions.
Investment in Quality
Our investments in research equipment demonstrate our commitment to data quality. Our fleet, including multiple 8 row precision air planters, TR combines, cultivators, sprayers and specialty data recording technologies. See Technology for more information.
Confidence in our data is greater because our technology is modified and well-maintained and because our staff is thoroughly trained on proper operation under a variety of conditions.
Full-time, Committed Staff
All sensitive research tasks - from planning through analysis - are completed by well-trained, committed full-time staff. In order to increase accuracy, part-time staff is not utilized for planting or harvesting functions. Our team is required to adhere to our Standard Operating Procedures for consistency. At KMR, you will find committed, hardworking individuals who strive for perfection in every aspect of their work.
Efficient Use of Resources
We firmly believe prices should only be raised if maximum efficiency has been reached. We closely monitor the use of our resources because our clients should not be expected to pay for our inefficiencies. We not only conserve resources but we use renewable, Midwest produced energy and supplies whenever possible.
Proven Track Record
KMR was founded in 2001 on the motto, "every decision based on accuracy and precision." We have consistently strived to produce reliable research data and product management tools.
Reliable Answers
Our clients know our statistically sound data was generated by year-round commitment to every detail of our trials. Each year we continue our commitment to our clients as we strive to raise the standard. Our clients testify to bringing products to commercial production faster and deciding to stop advancement of other products due to data generated from our locations.
Who We Are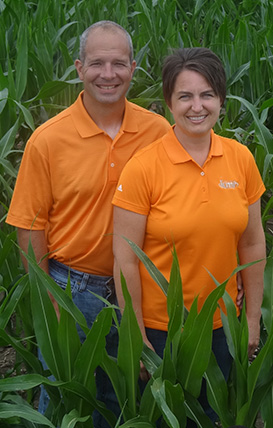 KMR was started by Kyle & Brenda Klein in 2001 with the vision that a reliable research program should uphold the highest levels of integrity and should be flexible enough to serve the unique needs of each customer. Their vision is possible only through genuine concern for the well being of each customer as an individual and a company.
Their vision included the concept that well-designed research is essential to making effective product decisions. In order for Midwest production agriculture to remain profitable and for rural communities to remain viable, retail seed companies must be able to make good advancement decisions and fully understand the products they are selling. Reliable research data is essential to making good product advancement and placement decisions. Everyone wins when research data is accurate and precise.
Kyle and Brenda are detail-driven and refuse to put their name on anything but a superior product or service. Reliable, unbiased research requires the ability to focus on hundreds of details and identify variables. They search tirelessly for individuals that acknowledge the sensitivity and precision of their work and are capable of building upon the foundation they built—integrity, flexibility, reliability, honesty and accuracy.